BMW Cooling
Posted by CSF in BMW
3 years ago on 14-06-2020 12:58:47
One of the few (fourth generation) family owned businesses of this size, with over 35 million CSF products sold. CSF is one of the world's leading manufacturers of BMW cooling products and it's the go-to brand for performance and race-spec cooling products. Whether you drive the iconic BMW M3 E46 or a newer member of the M-family, the BMW M2 Competition F87, we've got you covered!
BMW Top Charge Cooler
A world first: the CSF BMW F8x S55 top mount charge-air-cooler with cast endtank. This performance cooler is specifically engineered to optimise the performance of your BMW M2C, M3 or M4. Using multiple air dividers and seperately cast hot and cold endtanks, make sure the air flow is as efficient as possible.
What's more, is that the cores in the CSF top charge cooler for BMW S55 F8x engines are 60% larger than those in its OEM counterpart, which allows for optimal cooling for high performing BMW M3, M4 of M2C's.
The design of the cooler ensures easy installation, due it being plug-and-play and easy drop-in fitment. This also means it has 'quick connect' OEM water connections and sensor ports.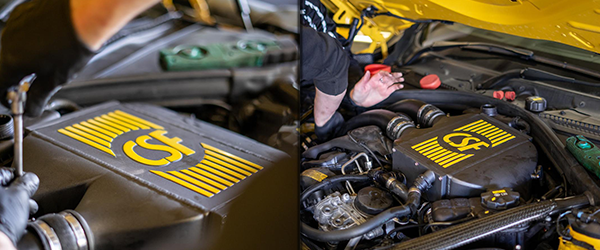 This pinnacle in performance cooling comes in a raw aluminium or crinkle black powder coat finish: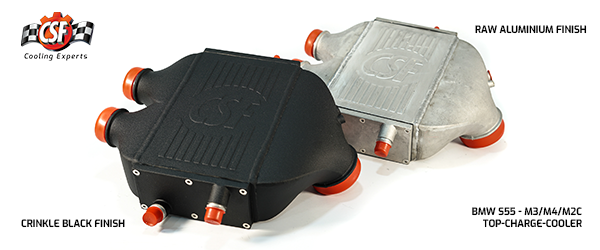 However, if you're serious about tuning, we also offer the possibility to go for a custom powder coated finish. For those who really want something different, or to match their engine bay with the colour of the actual vehicle. Some examples:
BMW M2 F87 N55 Intercooler
Do you drive an ECU tuned BMW, or are you thinking about ECU remapping? You'll definitely want an intercooler! If you start pushing your BMW to a higher level than OEM, you are demanding more from your vehicle. The OEM cooling parts - especially your intercooler - will have difficulties keeping up with your car's new found power. It would be a shame to have more BHP and Nm at your disposal and not be able to get the most out of it, simply because your cooling systems can't keep up.
This intercooler comes in a silver or black finish and doesn't only fit the BMW M2 F87, but will also fit most BMW N55 F20, F21, F22 and F23 models, as well as most BMW N55 F30, F31 and F34 models. Of course, these intercooler are also designed to ensure easy, drop-in fitment!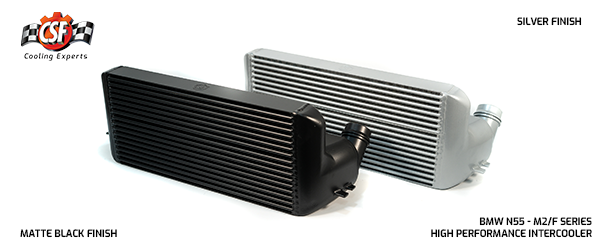 BMW Intercooler Performance Increase
The CSF Race High-Performance Intercooler dramatically reduces charge temps versus the stock intercooler, especially on cars running higher boost than stock.
This CSF intercooler will deliver a power increase of 15-20 hp on a stock BMW and over 25 hp on a vehicle that is tuned / modified. Compared to the its factory counterpart, the CSF intercooler will provide a >25 degree Celsius drop in charge temperatures. Lastly, independent testing shows a reduction in temperature of 5 degrees Celsius compared the Wagner EVO 2 (SOURCE).
BMW Performance Cooling
Next to charge coolers and intercoolers, CSF offers a wide range of other, BMW centered performance cooling parts like:
And more... We also create performance cooling systems for Porsche, VW, etc. Check out our entire catalog here